How Do Payday Loans Work?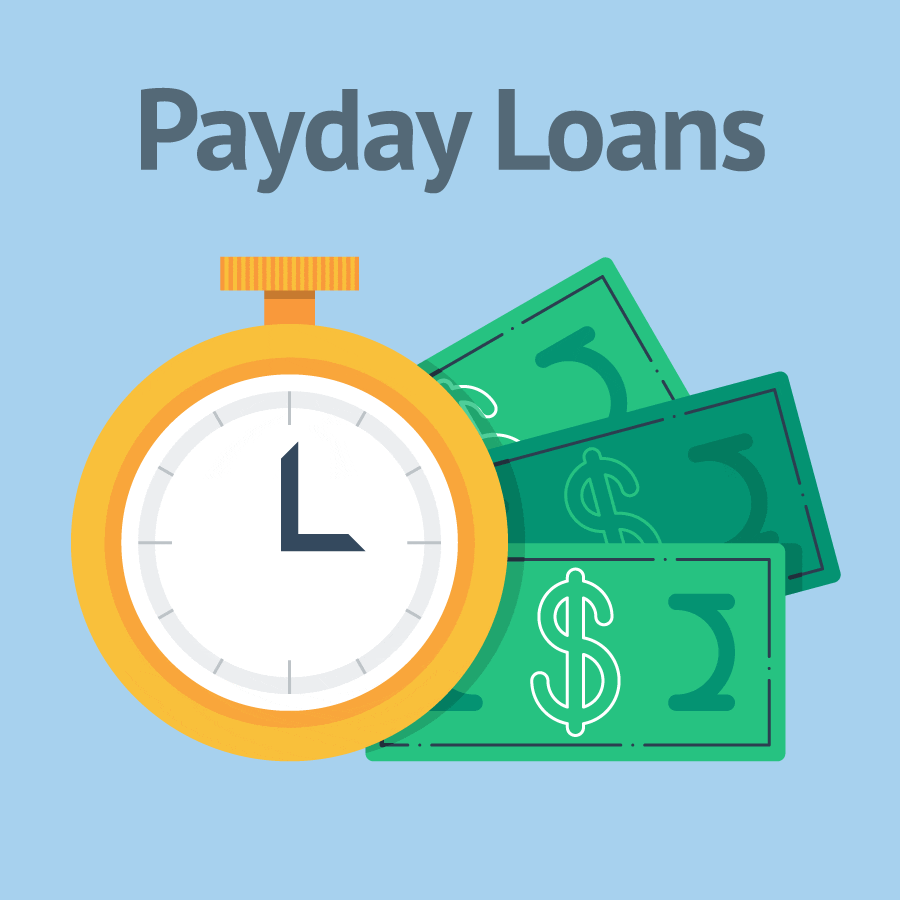 Payday loans have become the face of predatory lending in America for one reason: The average interest rate on the average payday loan is 391%.
And that's if you pay it back in two weeks!
If you can't repay the loans – and the Consumer Financial Protection Bureau says 80% of payday loans don't get paid back in two weeks – then your interest rate soars to 521% and continues rising every time you can't repay the debt.
Compare that to the average interest rate for alternative choices like credit cards (15%-30%); debt management programs (8%-10%); personal loans (14%-35%) and online lending (10%-35%).
Payday loans are a quick-fix solution for consumers in a financial crisis, but are budget busting expenses for families and individuals. Here is how a payday loan works.
Consumers fill out a registration form at a Payday lending office. Identification, a recent pay stub and bank account number are the only documents needed.
Loan amounts vary from $50 to as much as $1,000, depending on the law in your state. If approved, you receive cash on the spot.
Full payment is due on the borrower's next payday, which typically is around two weeks.
Borrowers either post-date a personal check to coincide with their next paycheck or give the payday lender electronic access to withdraw funds from the customer's bank account.
Payday lenders usually charge interest of $15-$20 for every $100 borrowed. Calculated on an annual percentage rate basis (APR) – the same as is used for credit cards, mortgages, auto loans, etc. – that APR ranges from 391% to more than 521% for payday loans.
What Happens If You Can't Repay Payday Loans
If a consumer can't repay the loan by the two-week deadline, they can ask the lender to "roll over" the loan and an already steep price to borrow grows even higher. On a "roll over" loan, customers must pay the original loan amount and finance charge, plus an additional finance charge on the new total.
For example, the average payday loan is $375. Using the lowest finance charge available ($15 per $100 borrowed), the customer owes a finance charge of $56.25 for a total loan amount of $431.25.
If they chose to "roll over" the payday loan, the new amount would be $495.94. That is the amount borrowed $431.25, plus finance charge of $64.69 = $495.94.
That is how a $375 loan becomes nearly $500 in one month.
How Payday Loan Finance Charges Are Calculated
The average payday loan in 2016 was $375. The average interest – or "finance charge" as payday lenders refer to it – for a $375 loan would be between $56.25 and $75, depending on the terms you accept.
That interest/finance charge typically is somewhere between 15% and 20%, depending on the lender, but could be higher. State laws regulate the maximum interest a payday lender may charge.
The amount of interest paid is calculated by multiplying the amount borrowed by the interest charge.
From a mathematical standpoint, it looks like this for a 15% loan: 375 x .15 = 56.25. If you accepted terms of $20 per $100 borrowed (20%), it would look like this: 375 x .20 = 75.
That means you must pay $56.25 to borrow $375. That is an interest rate of 391%. If you pay $20 per $100 borrowed, you pay a finance charge of $75 and an interest rate of 521%.
How Payday Loan Interest Rates Are Calculated
The annual percentage interest rate (APR) for payday loans is calculated by dividing the amount of interest paid by the amount borrowed; multiplying that by 365; divide that number by the length of repayment term; and multiply by 100.
In mathematical terms, the APR calculations on a $375 loan look like this: 56.25 ÷ 375 = .15 x 365 = 54.75 ÷ 14 = 3.91 x 100 = 391%.
For the $20 per $100 borrowed (or 20%) on a $375 loan, it looks like this: 75 ÷ 375 = .2 x 365 = 73 ÷ 14 = 5.21 x 100 = 521%.
Again, those APR as astronomically higher than any other lending offered. If you used a credit card instead, even at the highest credit card rate available, you are paying less than one-tenth the amount of interest that you would on a payday loan.
Debt Relief from Payday Lenders
Surveys suggest that 10-12 million American consumers get payday loans every year, despite warnings from several sources about the soaring cost of that system.
There are other ways to find debt relief without resorting to payday loans. Community agencies, churches and private charities are the easiest places to try and if the Consumer Financial Protection Bureau has its way, the federal government will implement rules that severely restrict payday loans and the cost to get one.
The CFPB says it is working to end payday loan debt traps, the cycle of "roll over" loans that result in consumers paying $529 in fees over a five-month period for the average loan of $375. The CFPB proposed several changes in the summer of 2016, the most noteworthy one being that payday lenders would be required to determine if customers can make the loan payments and still meet basic living expenses.
The CFPB proposals have not been implemented yet so in the meantime, where can you turn if you hit a financial crisis?
Borrow from family or friends. This is undoubtedly the fastest solution and should be the least expensive way to dig yourself out of trouble. You would expect to pay much lower interest rate and have far more generous timeframe than two weeks to pay off a loan, but make sure this is a business deal that makes both sides happy. Draw up an agreement that makes the terms of the loan clear … and stick to it!
Debt management plans. Financial problems for many consumers start with over-spending on credit cards and leak into other areas that eventually create a financial crisis. Call a nonprofit credit counseling agency like InCharge Debt Solutions to find out how they can help you reduce interest rates on your credit cards to 8% (sometimes lower) and thus free up money to pay things like rent, utilities and auto repairs. InCharge credit counselors also have referrals to community agencies that assist with food, clothing, rent and utility bills to help people get through a financial crisis. They also assist with setting up a family budget.
Local charities and churches. If you have hit a bump in the road, there are a surprising number of charities and churches willing to lend assistance at no cost. Organizations like United Way, Salvation Army and church-sponsored ministries like the St. Vincent de Paul Society often step in when all you need is a few hundred dollars to get through a tough stretch.
Community banks and credit unions. The regulations allow local banks and credit unions to make smaller loans on easier repayment terms than the large regional or national banks do. Call or visit to compare interest rates, which could be as low as 10%-12% as compared to 400%-500% rates on payday loans.
If you're still having problem finding a source of money, go online and check the peer-to-peer lending sites. The interest rates could be close to 35% than the 6% rate those with great credit receive, but 35% is still a lot better than the 391% from a payday lender.
Payday Loans Target Military, Low-Income
Payday lenders prey on people in desperate economic situations, meaning low-income, minority families, members of the military and anyone else who has limited credit options.
Payday loans got their name because they are structured around the two-week time frame during which most people receive their paycheck. The borrower provides a pre-dated check (timed to coincide with the date the borrower expects his/her next paycheck) or access to his/her bank account to cover the cost of the loan and interest.
The finance charge for payday loans typically is $15 for every $100 borrowed, but can be as high as $30 per $100 borrowed in some places. The real trouble starts when consumers can't repay the loan after two weeks and have roll it over and go through the whole problem again, at a much higher rate.
The CFPB estimates that 80% of payday loans get rolled over and 20% end up in default, which goes on your credit report for seven years and all but eliminates you from getting credit in the near future.
Another penalty consumers often incur from payday loans is bounced-check charges from you bank. If you don't have the money in the your account when the payday lender tries to cash the post-dated check you wrote, there is a penalty of $25-$35.
Default also opens you up to harassment from debt collection agencies, who either buy the loan from the payday lender or are hired to collect it. Either way, you can expect the phone to ring until you pay.
There also is long-term damage to your credit score. Though some payday lenders don't report directly to the three major credit reporting bureaus in the United States, most report to the minor agencies. If the debt goes to a collection agency, that agency almost always reports non-payment to the major credit bureaus, which ruins your credit.
---
Sources:
DeYoung, R., Mann, R., Morgan, D., Strain, M. (2015, October 19) Reframing the Debate about Payday Lending. Retrieved from http://libertystreeteconomics.newyorkfed.org/2015/10/reframing-the-debate-about-payday-lending.html#.V112tLsrLIU
NA, (2016, January 14) Payday Loan Facts and the CFPB's Impact. Retrieved from http://www.pewtrusts.org/en/research-and-analysis/fact-sheets/2016/01/payday-loan-facts-and-the-cfpbs-impact
NA, ND. How (and Why) to Calculate the APR for a Payday Loan. Retrieved from https://www.opploans.com/blog/calculate-apr-payday-loan/
NA, (2016, June 2) Payday Loans, Auto Title Loans, and High-Cost Installment Loans: Highlights from CFPB Research. Retrieved from http://files.consumerfinance.gov/f/documents/Payday_Loans_Highlights_From_CFPB_Research.pdf
NA, (2012, July 19) Who Borrows, Where They Borrow, and Why. Retrieved from http://www.pewtrusts.org/~/media/legacy/uploadedfiles/pcs_assets/2012/pewpaydaylendingexecsummarypdf.pdf